NEXT GAMES
VaeVictis #167 : Nabis the Last Spartan 195 BC
Nabis, the last Spartan is the second game in the series By the Edge of the Sword Antiquity series, after Alexander against Persia.
In 195 BC. J.-C., the king of Sparta Nabis sees his diplomatic maneuvers
collapse. The powerful Roman legions of the proconsul Titus Quinctius
Flamininus invade Laconia, accompanied by troops of the Achaean League. Refugee in Sparta with his motley army, Nabis fights a last combat to try to save his city. The game proposes to replay this battle which begins with a confrontation on the open ground and extends into street fighting, where all tactical stratagems, including the arson of the city, are good for repelling the Romans.
Can you save Sparta's independence or will you plant the Eagle of Rome in the heart of the city of Lycurgus?


One turn: 20 min.
1 SP = 200 men
Map: one hex. = 200 m
Complexity: 6/10
Solo play: 7/10
Duration of a game: about 2 hours
Die-cut counters :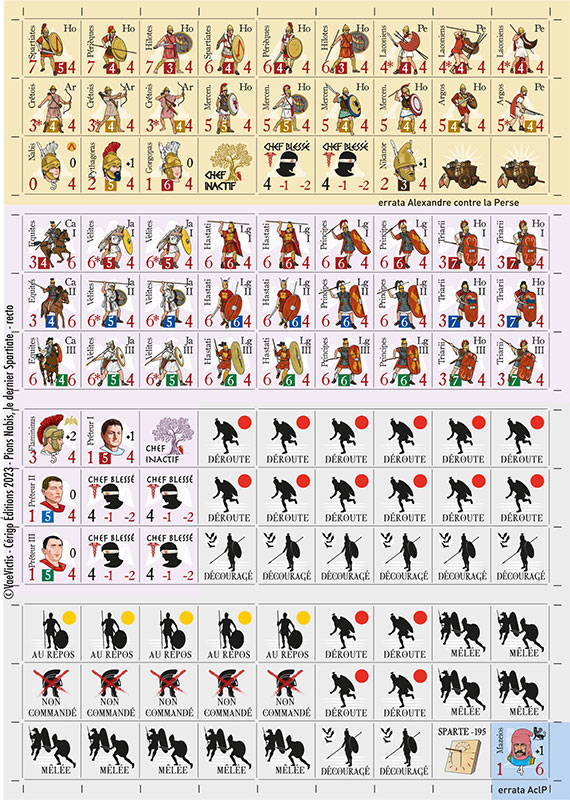 Map (29,2 x 42 cm, preview):
Following games...
Depending to their state of conception, the order may change.
Are planned:
La révolte des Cipayes
Lützen 1813
La guerre de Jugurtha
La conquête du Pérou
Romanitas, 518-618
Saint-Marcel 1944
Cérisoles 1544
Special Issue Games
The Arab Conquest of the Levant 636-656
Battles of Louis XIV - War of Spanish succession