NEXT GAMES
VaeVictis #171: Pizarro, the conquest of the Inca Empire
This game simulates the conquest of the Incan empire by Francisco Pizarro and his brothers. The game is part of the "Gold and Steel" series "L'or et l'acier" (The Burgundian wars, 1474-1477-VV 115, The war of the Public Weal 1465-VV 123, Cortès and the conquest of Mexico 1519-1521-VV 137, the French-Breton War 1487-1491, VV 160) which play the campaigns of the end of the 15th century and beginning of the 16th century on the strategic and tactical levels. 
The game is both strategic, with the armies moving on the map through zones representing the Incan empire, and tactical, with the combatants of this period facing off on a tactical map depicting the battlefield.
The diplomacy table indicates the evolving alliance of the Indian peoples of the Incan empire from unwavering support to doubt to change of camp which may have consequences on the battle and influence the allies' ability to recruit. 
Victory points are obtained through alliances, by winning major battles (involving more than ten strength points on both sides), the siege of fortresses and by controlling all nine zones designated as strategic objectives.
Throughout the game, the Spanish receive a random number of reinforcements from the New World which balance out the forces opposing the Incan military power and their enormous human resources and offers each camp a chance at victory. 
Will you allow the Incas to preserve their Empire against the greediness of the conquistadors? Or will you succeed in this audacious conquest?
Complexity: 5/10
Duration: 2-3 hours
One turn: one season
Combat unit: approximately 40 conquistadores or 4000 indian warriors
Die-cut counters :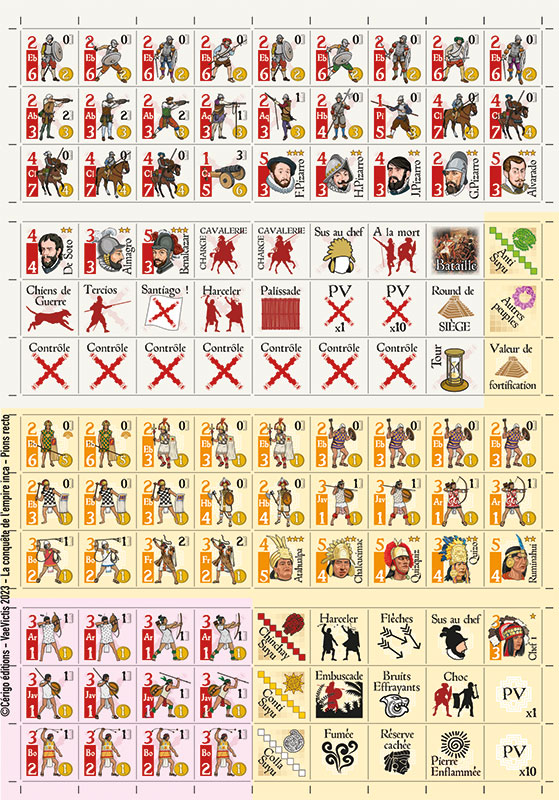 Map (29,2 x 42 cm, preview):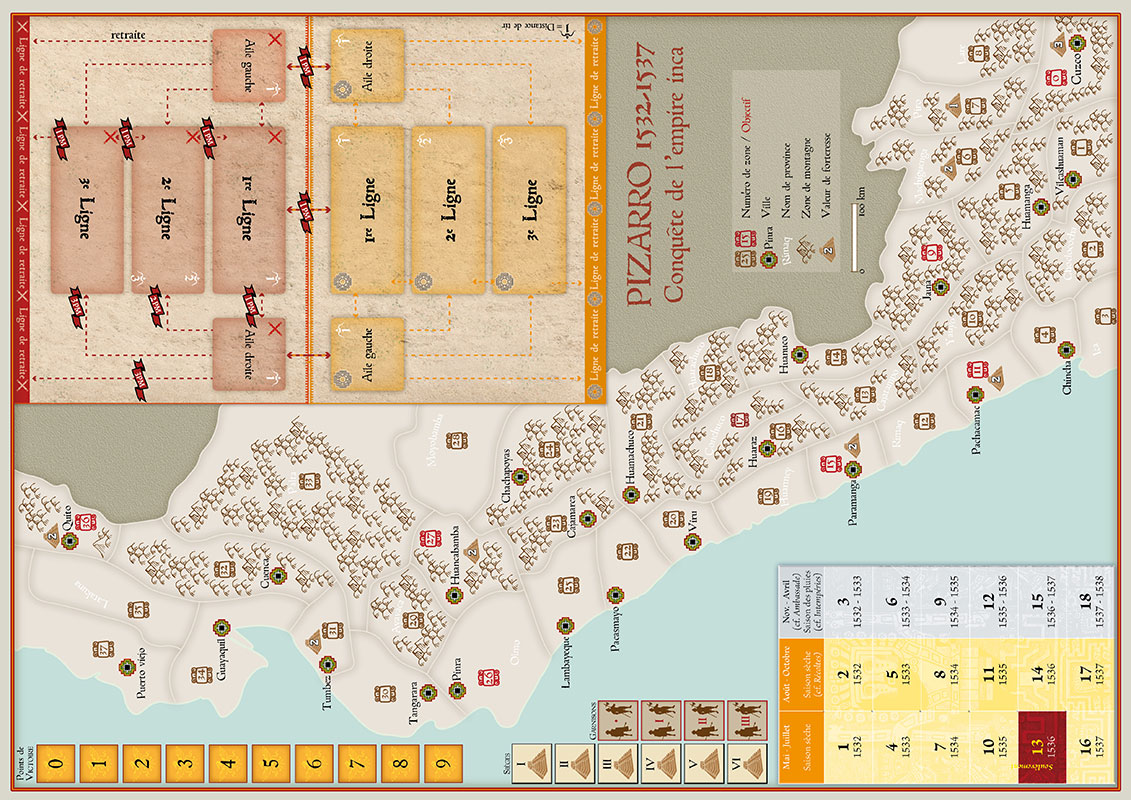 Following games...
Depending to their state of conception, the order may change.
Are planned:
La conquête du Pérou
War of Ogaden
Romanitas
Saint-Marcel 1944
Cérisoles 1544
Opertaion Gemse
Special Issue Games
Battles of Louis XIV - War of Spanish succession

Fields of Battle #2